Guiding you through the process every step along the way
We know that deciding to go solar is a big decision for most people. We outlined our process for you so that you can understand what to expect from the first time you contact us to inquire about solar to when your system is installed and producing clean energy for your home.
Tell us about your house
When you contact A&R Solar, we will call or email you to get some basic information: address, contact info, average utility bill, and a few questions about your house or business.
We will take a look at your property via satellite imagery to get an early indication if your site might be right for solar. You might be asked if trees near your house are still growing or have been removed, how old your roof is and its type (composite, metal, tile, etc), and to confirm the orientation of your roof (north, south, east, or west).
Occasionally, we find certain conditions (heavy shading, for example) that would cause us to tell you that it won't be worth your investment to install solar on your home. As a B Corporation and Social Purpose Corporation, we abide by certain values and ethics, and that includes being honest about whether we think solar makes financial sense for you!
After this short assessment, you will be referred to one of our solar design consultants for a more in-depth discussion about your solar goals.
Turn your goals into a plan
A solar design consultant will contact you to walk you through the details of solar energy systems, financing, and incentives. The consultant will answer your questions and learn more about your goals. We might visit your property to take readings that will help create a preliminary design sketch and check any shading issues from nearby trees or buildings. You will be provided an estimate of cost and a timeline for the installation.
A formal written proposal will be presented to you, either in person or over the phone. You will have time to review this, ask questions, and request any modifications before you sign it.
Understanding your contract
We recommend that you look over your contract carefully and talk through any concerns or questions you might have with your design consultant.
Here are some key pieces of your contract:
DESIGN
You will see the design of your system as it appears on your roof. It will show where on the roof the panels will be placed and whether they are laid out vertically or horizontally (or both). The design will be verified and refined by a solar designer after you sign your contract.
It will also tell you the total size of your system in kilowatts and your estimated energy offset based on the information you provided us about your past usage.
EQUIPMENT
The contract will also list the equipment that will be used in your installation, including the brand and model of panels, inverter(s), racking and mounting systems, and monitoring system (if purchased).
WARRANTIES AND GUARANTEES
In this section, you'll find a summary of coverage provided by A&R and manufacturers for your overall system performance, craftsmanship, and equipment.
SCOPE
Sometimes we need to do some extra work to install your system, like upgrading your electrical panel, which could incur additional expenses. Depending on your city, building permits and/or engineering may also be required, which we may not know until later in the design process.
For all of our installations, we include in the cost all electrical permitting and inspection, filing utility and incentive paperwork, and your owner's manual and documentation.
INCENTIVES AND FINANCIALS
Your contract also lists out your system's base price and any discounts we've applied. We also give you estimates of the various incentives you'll receive. Please note that we can only guarantee the energy production of the system, not the financial savings themselves as incentives may fluctuate over the life of your system.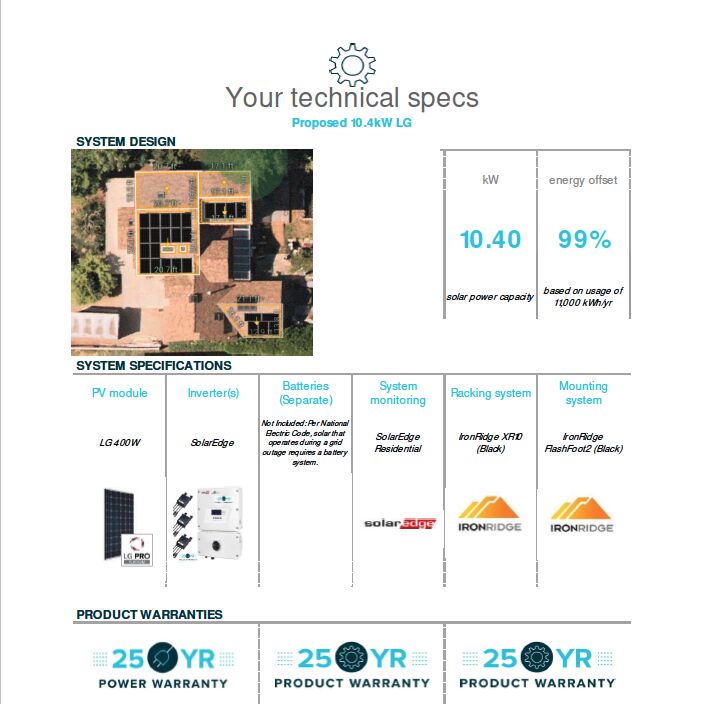 TAKE ADVANTAGE OF OUR FREE CONSULTATION SO WE CAN PROVIDE THE ANSWERS YOU NEED TO MAKE AN INFORMED DECISION.