Home battery backup solutions
When the power goes out–whether from a storm, wildfire, or earthquake–home battery backup systems turn on and provide power to your essential electrical systems, while your solar panels recharge the battery.
Without battery storage, your solar PV system is designed to shut down to protect utility workers, leaving you in the dark like everyone else.
Home battery storage systems charged primarily from solar energy systems are eligible for the Federal Solar Tax Credit. Solar energy systems are eligible for the credit as well.
The best solar battery storage option for Washington and Oregon
A&R Solar offers the top battery backup solution for the Northwest: Tesla Powerwall.
Our Research and Development team spent the last three years assessing solutions for our clients and has reviewed the major battery storage offerings available today, such as LG RESU, Generac/Pika, sonnen, SimpliPhi, Panasonic, Outback, ElectrIQ, Sunrun, Enphase, Sunverge, and Sunvault.
Focused on customer needs
We've listened to our customers over the years and have made countless design requests directly to manufacturers. These are the features Northwest customers are looking for in battery solutions:
Federal Solar Tax Credit eligibility (30% between 2022-2032)
Resilient functionality in cold weather
Web and mobile monitoring and control
Scalability to stack multiple batteries together for even the largest homes
Solar self-consumption mode to protect against future utility rate changes
Higher power throughput to pair with larger home systems (i.e. well pumps, heat pumps, etc)
Easy storage retrofits to pair with their existing solar systems
No costly retrofits
A range of solutions to fit diverse budgets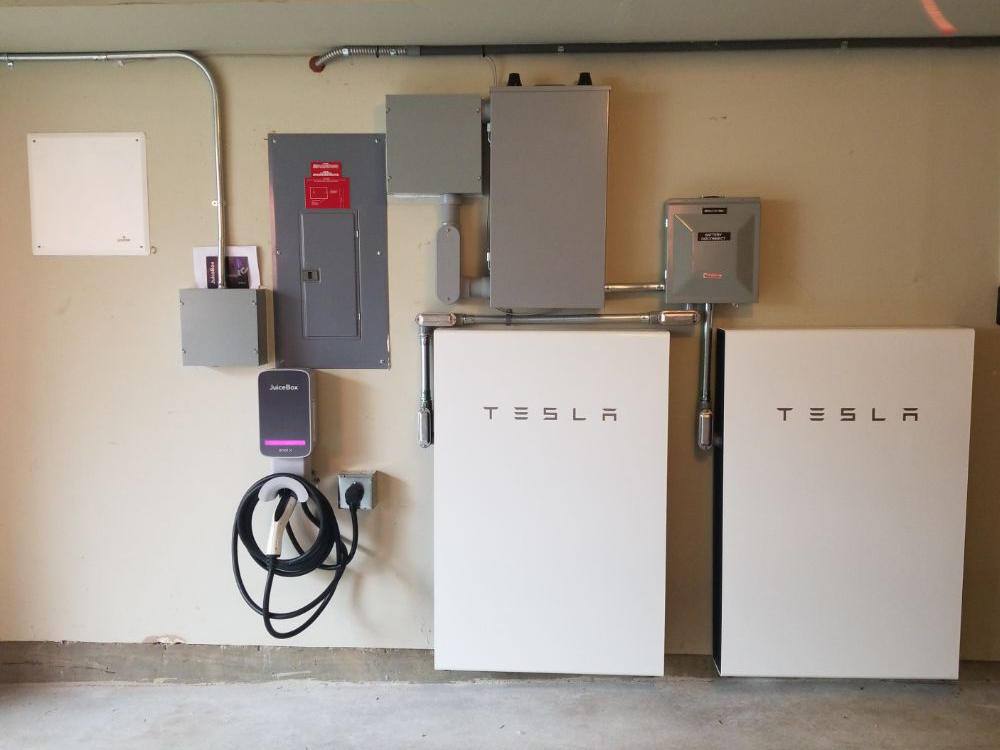 Ahead of the pack
Here's why we believe Tesla Powerwall stands out among the home battery backup systems:
Sterling manufacturing reputation
Planning, foresight, and adaptability to market changes
Economy of scale that will gradually drive customer pricing down over time
Enormous financial strength, publicly traded, multinational
Great customer service, warranty support, and partnership management
You have choices – here's why we think you'll be glad you chose A&R Solar
Tested equipment. Our battery backup solutions have gone through a rigorous review process, including beta testers.
More experience. We are the leading solar+storage firm with 15 years of experience in Washington and Oregon. We've designed and installed 4,000 solar energy systems and 300 batteries.
Local experts. All expertise is under one roof right in your area, NO SUBCONTRACTORS required. We have more NABCEP and battery-certified employees than anyone in the Northwest.
Local service. If you need service or support, we are a simple call away. We have a dedicated service department and ~100 staff located here in the Northwest, not in call centers in other parts of the country.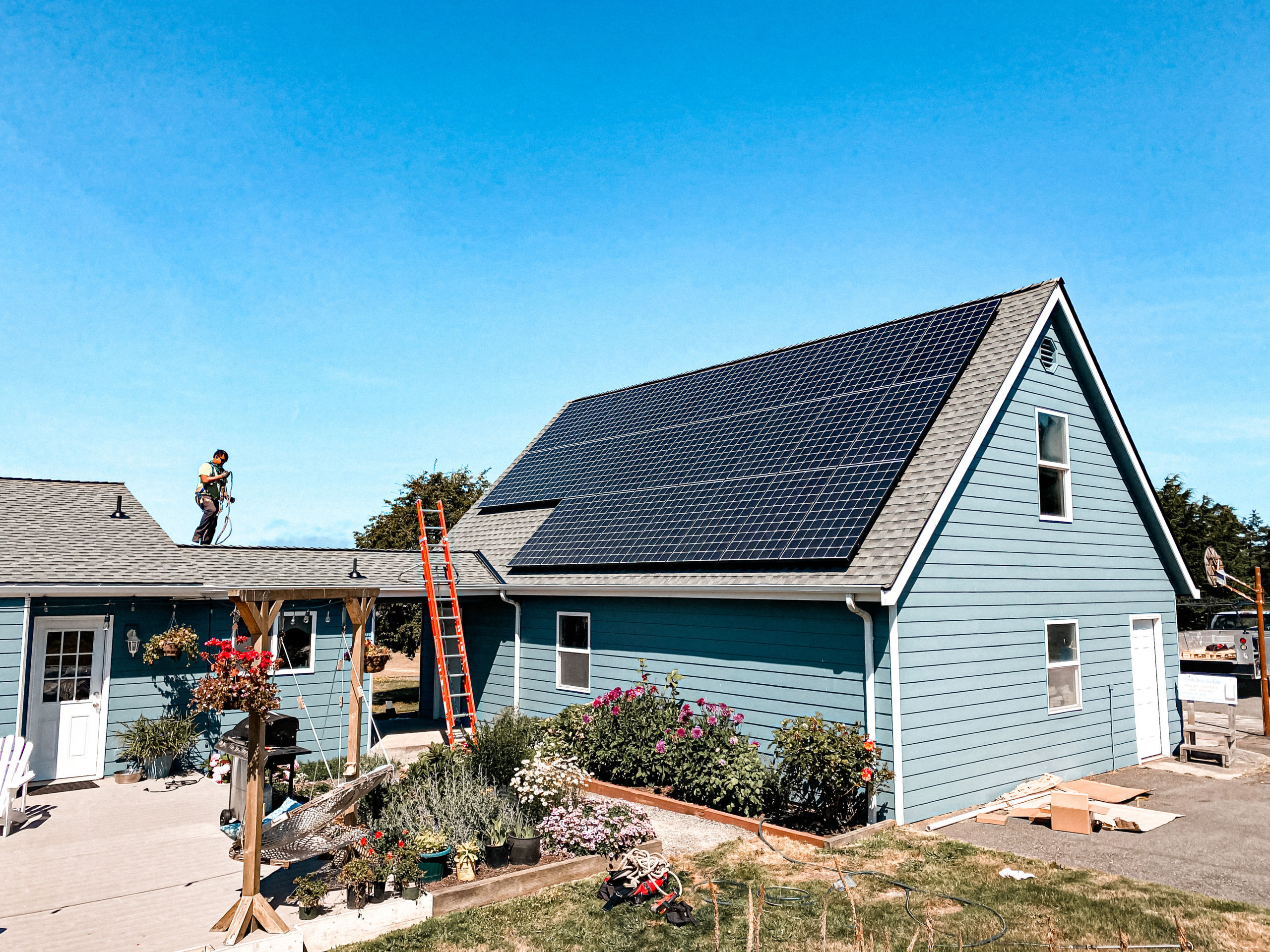 Frequently Asked Questions about home Battery Backup
WHEN CAN I GET A HOME BATTERY BACKUP SYSTEM INSTALLED?
If you have a home or business in Washington or Oregon, get started now by filling out this form. The lead time between signing your contract and getting installed depends on which product you select, but the sooner you get started the sooner we can get your property resilient to power outages.
WHAT DOES ENERGY STORAGE DO FOR ME?
Energy storage–aka a battery system–allows your home to safely disconnect (island) from the utility grid when the grid is down. Your home becomes its own temporary microgrid. The battery system will balance your home's energy needs. If you have solar, it will tell your solar inverter(s) that all is well, and they can come back online and produce power when there is enough light. You will still need to conserve electricity (especially in the winter), but depending upon how much energy your home uses, you should have many hours or days of power even when the grid is down.
HOW LONG WILL HOME BATTERY STORAGE LAST DURING A POWER OUTAGE?
An average home in the Northwest should see 6-12 hours of backup power per battery installed. If you have solar or other grid-tied generation, you could see this extended by hours in the winter or days/weeks during the time of the year when we have longer and sunnier days.
HOW MANY BATTERIES WILL I NEED?
We will work with you to properly size your battery system based upon:
1) the size of your solar system
2) the duration you want to be able to run when the grid is down
3) the size of loads you want to run
WHAT DOES IT COST?
Battery storage systems are more than just a battery that can hang on your wall. The system also includes some or all of these necessary components: battery inverter(s), transfer switch, protected load panel, monitoring device, software, miscellaneous electrical materials, and all associated permits and labor required for a professional installation. Your home may need a single battery unit or it may need multiple. However, a battery system paired with solar runs charged primarily with solar is eligible for the 30% federal tax credit (IRS 5695 / IRS Letter Ruling). And don't forget: our prices are built to sustain a full-time Service Department for 1-business day response to issues with your system.
But let's get down to numbers:
Typical Installed

Price Range

(Western WA/OR)

Typical Installed

Price Range

(Eastern WA/OR)

Waitlist-nationwide shortages
*Two Powerwall minimum required. Single Powerwall design options have been eliminated due to design complexity and average customer requirements.
DO I HAVE TO HAVE SOLAR?
No – you could charge a storage system by other means, but power from the sun is certainly the cleanest and most reliable method. Solar plus storage also has the greatest tax advantages and is the cleanest way to recharge during a power outage. Batteries can be charged from the grid or from solar. If you are interested in charging your system from a generator, please work with your design consultant for options.
CAN I BE OFF GRID?
Most of our customers offset a significant amount of their annual electric energy with solar. You can offset as much as 100 percent of your energy usage and not completely cut the cord from your electrical utility. Having all of your electrical needs provided by solar energy means that you are net zero without the need to be "off-grid".
In other cases, people have cabins or RV setups that aren't connected to an electrical utility. This is really what off grid means. A&R Solar is focused on grid-tied interactive solar and battery systems. If you are interested in being totally off grid, we recommend visiting WASEIA or Solar Oregon to find a company that supports off-grid systems.
Unless your home is in a remote area not served by an electrical utility, we highly recommend staying connected to the grid. As freeing it sounds to completely cut the cord, here's why we would remain grid tied:
Homes and businesses that are connected to the grid are eligible for financial incentives, including net metering, which allows you to build up credits with your utility during the long days of summer and use them during the dark winters. You don't need a separate battery storage system to be net zero.
If you are off grid and something goes wrong with your system, or if you aren't producing enough electricity with your solar panels to cover your energy needs, you will be in the dark until the sun rises. On dark, cold, stormy days, that could feel like a long time.
Even with a battery, you might not be able to produce enough electricity every single day to cover all of your needs. This is especially true during the winter months.
Having solar power feed back into the grid has far reaching benefits including helping the world move toward renewable energy.
AM I ELIGIBLE FOR THE FEDERAL SOLAR TAX CREDIT?
As with all tax credits, please consult a tax professional before making financial decisions. However it's commonly known that battery systems charged primarily with solar are eligible for the 30 percent federal solar tax credit (IRS 5695 / IRS Letter Ruling).
HOW MUCH OF MY HOUSE CAN IT POWER AND FOR HOW LONG?
That depends. What do you need to run? And how long do you need to run it? Battery storage can provide perpetual amounts of power when combined with solar. The grid might be down, but your solar panels are now feeding into your battery system instead of pushing all of that power back to your utility.
Here come the variables: the size of your solar PV system, the size of your battery storage system, and the biggest one of them all, how much energy your home might consume during an outage.
To illustrate further, picture your bathtub. The faucet is the power your solar modules are generating, while the drain represents how much electricity your home is consuming. The bathtub is the battery. It has to balance the amount of energy coming in with the amount going out.
That's where we come in. We work with our customers to determine what essentials they'd like to have backed up during a power outage. It's never a one-size-fits-all approach.
WHY IS YOUR PROPOSAL MORE THAN TESLA'S?
Tesla is providing an estimate that doesn't include local labor rates, travel time, permitting fees, or any additional electrical work that will be needed to pass inspection in Washington and Oregon. These estimates are just that, estimates by remote sales people who haven't visited your property. Tesla is subcontracting the installations out to a handful of companies like A&R Solar which have been approved as a Tesla Powerwall Certified Installer.
This is your buyer beware, and "get what you pay for" moment. Tesla's product manufacturing is fantastic (that's why we sell and install them) but dealing directly with Tesla is a completely different animal. Consider Tesla Solar's nationwide reviews on SolarReviews, or Yelp reviews in Portland, Sacramento, San Francisco, Los Angeles, San Diego. As with any Yelp page, also be sure to get an extra helping of reviews near the bottom in grey where it says "…other reviews that are not currently recommended." Please make careful observations about customer service, their sales consultation practices, and the length of time between communications pre and post installation. Their Automotive division is not their Energy division. We'll let you draw your own conclusions.
Here's how A&R Solar is approaching Powerwall sales:
We are providing a detailed quote, not an estimate that will be later amended once a certified person reviews your home's specifics. No surprises.
We are the leading solar+storage firm with over 14 years of experience and more NABCEP and Tesla certified people than any other company in the Northwest. All expertise is under one roof right in your area; no subcontractors required.
If you need service/support, we are a phone call away. We have a dedicated Service Department and 90+ staff across two states.
Check out our Washington Yelp reviews, Oregon Yelp reviews, SolarReviews, Facebook, and Google as a matter of comparison.
WHY ARE BATTERIES BETTER THAN A GENERATOR?
Batteries don't emit poisonous carbon monoxide or pose increased fire hazards
You don't have to go outside in the middle of the night in bad weather to refuel
Battery systems are silent and designed to be aesthetically pleasing
Battery systems have significantly longer warranties than most generators, and they increase the value of your home
Generators require significant maintenance: oil changes, filters, gas stabilizer just to start
Generators do not earn a federal tax credit
WILL BATTERIES WORK WITH MY EXISTING GENERATOR?
Check with us on compatibility, as it varies across storage technologies.  With batteries, your solar+battery will be your first line of protection.  Your generator will only be needed if your batteries are empty.
WHAT IS AC AND DC COUPLING?
AC coupling is just a technical term for when you add battery storage to your existing grid-tied solar energy system. All grid-tied solar PV systems are required by code to shut down when the power goes out in order to protect utility line workers. However, with an AC coupled battery system, your solar system will be able to remain online during an outage and provide power when you most need it. DC coupled batteries receive power directly from solar without an inversion step. DC coupled batteries have the advantage of slightly higher efficiency but are often much more difficult to retrofit to an existing solar system, and easier to install when you have a fresh start.
WHAT IS A TESLA BACKUP GATEWAY AND WHY DO I NEED ONE?
You'll need one or more for the Powerwall. The Tesla Backup Gateway is a critical component that allows Powerwall(s) to safely operate whether the grid is up or down. It provides monitoring and management of the overall Powerwall system.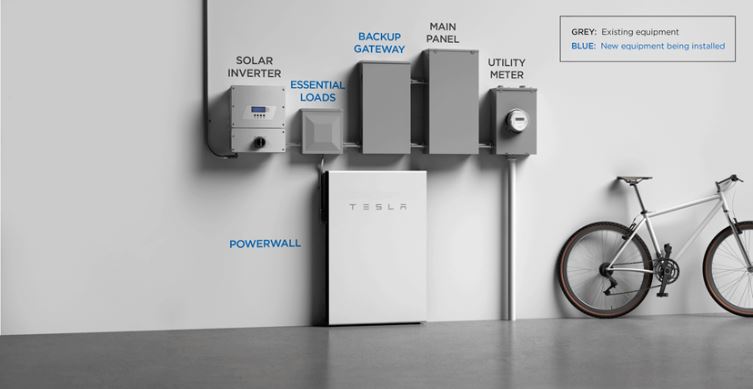 IS THERE A REFERRAL PROGRAM?
Yes, we love to pay our referrers. The referral program pays you $500 when the person you refer goes solar. The person signing up for the system gets a discount, too. In fact, if you refer a solar + battery prospect and they go with both, they can earn $1,000 off their new system, and you receive the same amount as a check from us.
I HAVE MICROINVERTERS, CAN I STILL DO BATTERY BACKUP?
Yes, two pathways here. Microinverters work great with batteries and provide a lot of flexibility in designing the optimal storage system. You can either pair Powerwalls to your microinverter system (AC-coupled) or if you have Enphase microinverters, you may wait until 2022 when Enphase has reached A&R Solar's rigorous Research & Development criteria. Feel free to ask your design consultant more about this.
WILL THERE BE A RETURN ON MY INVESTMENT?
Yes, two kinds, one in the near-term, one in the long-term: First is the incalculable kind that keeps your lights and heat on during a power outage or disaster. It's tough to put a price on that kind of peace of mind. The second involves Time of Use (TOU) charges that utilities are considering implementing in the Northwest.
Because the storage systems can be programmed for both backup and daily use operations, you'll be ready if your utility ever decides to charge more for electricity during peak times. This is because you can automatically move from paying a premium for grid electricity to utilizing stored solar electricity for free with the embedded software. It's the primary reason batteries are becoming so popular in states like Hawaii and California where Time of Use billing systems are already in effect.
MY INVERTER IS INSTALLED OUTSIDE, WHERE SHOULD MY BATTERY BE INSTALLED?
Although we can solve lots of problems with neat and clean conduit runs, the best location for the battery system is as close to your main service panel and inverter(s) as possible. The most common places are inside or adjacent to a garage by the electric panel.
CAN THE BATTERY BE INSTALLED IN AN ATTIC OR CRAWL SPACE?
No. Most are floor or wall mounted and require adequate ventilation and clearances for efficient operation and service access.
TAKE ADVANTAGE OF OUR FREE CONSULTATION SO WE CAN PROVIDE THE ANSWERS YOU NEED TO MAKE AN INFORMED DECISION.