You're making a difference, and we've got your back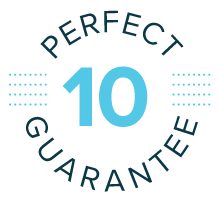 That's why we offer our industry-leading leading Perfect 10 Guarantee™. A&R provides 10 year warranties on your residential system's performance, workmanship, and labor. This is on top of equipment warranties (which typically are 25 years)*.
We've earned a reputation based on quality and craftsmanship, and this is how we backup our work and promises to you.
*Except for solar systems paired with DC-coupled battery systems or "behind the meter" EV chargers.
MEET OUR INDUSTRY-LEADING, PERFECT 10 GUARANTEE™
Get the performance you expect, or we'll refund you 110 percent of the difference, guaranteed. We've got you covered in the event something goes wrong during the first decade of operation.
We deliver peace of mind with our projects by offering an industry-leading 10-year warranty, covering you from any defects in workmanship, building materials, or related construction.
Sometimes technology fails. If you need us to replace faulty equipment, any labor costs associated with this effort are on us for the first 10 years after your purchase.
TAKE ADVANTAGE OF OUR FREE CONSULTATION SO WE CAN PROVIDE THE ANSWERS YOU NEED TO MAKE AN INFORMED DECISION.