Get started in a career in solar
Solar jobs are growing 17 times as fast as the U.S. economy. That means that solar installation companies like A&R Solar are growing too and hiring more workers.
But let's back up. A solar installer is the company people hire to install solar panels on their homes and businesses. That might seem fairly simple, but there is a lot that goes into planning and finishing the project.
Keep scrolling to learn a little about why solar rocks, the typical jobs that we have, how to get trained, and what it's like to work in solar.
Teachers! Are you an educator in Washington or Oregon who is interested in having someone talk to your class or group about solar or renewable energy? Fill out our contact form, and we'll get back to you!
PROVIDES FAMILY WAGE JOBS
CREATES EQUITY IN COMMUNITIES
The solar industry consists of many industries from businesses that manufacture solar panels to nonprofits that promote clean energy to installers like A&R Solar that install solar PV systems on homes and businesses. These are some of the typical positions at A&R (check out our careers page to find open positions). Other companies will have different roles.
POLICY AND PARTNERSHIPS DIRECTOR
Electricians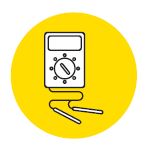 Electricians are responsible for connecting the solar panels, inverter, and other electrical equipment to a building's power supply.
Tasks: Complete all of the electrical work on the jobsite, including installing inverters, hanging electrical gear like disconnects and sub-panels, bending and mounting conduit, pulling wire, and tying the solar energy system to the building and electrical grid.
Training: To become a licensed electrician, you must obtain a state license through a few years of coursework and training. Certain programs have you earning money on the job while you are an apprentice, which means you typically don't have any education debt when you receive your license.
Why become an electrician? You make really good money, possess skills that are transferrable to other lines of work, and you are the boss on the jobsite. You work outdoors in the fresh air.
Salary: $$$$
Solar Technicians

Solar techs attach the racking and solar panels to the roof or other structure, such as a ground mount, carport, or awning.
Tasks: Understand system design and layout, secure racking and solar panels according to plans, and troubleshoot issues related to the solar array. Can't be afraid of heights!
Training: Should have basic construction skills, along with knowledge about electrical wiring and math skills. Able to regularly handle 50+ pounds, climb up and down ladders, and work in tight spaces.
Why become a solar technician? Be on the front lines of deploying the new, clean energy economy. Be proud of your craftsmanship, which will be on display for many to see for decades to come. You get to work outdoors. In some states like Washington, you can earn enough hours as a solar tech to obtain an electrician's license (after some coursework and testing).
Salary: $$
Warehouse/Purchasing

Warehouse and purchasing team members make sure that the crews have everything they need to install solar at a customer's house. That means they must order all of the equipment and make sure it's ready to go the day of installation.
Tasks: Order solar panels, racking, inverters, and electrical balance of system components. Keep the warehouse stocked with tools and parts. Receive deliveries and drive a mean forklift. Run errands and help both the Project Managers and Installers as needed.
Training: There are certificates in warehouse management that teach you about supply management and logistics. You can also get experience by working in a warehouse and learning the ropes that way.
Why work in warehouse/purchasing? You get the best of both worlds. You work on a computer managing inventory and orders, and you get out of the office to pick up items for a job site. You are always busy!
Salary: $$
Project Manager/Administrator

Project Managers and Administrators coordinate all of the pieces for a solar energy installation to run smoothly. They work with cities or counties to make sure all the permits have been secured and the electrical work has passed inspection. They also work directly with the customer to ensure all of their needs are being met and that the project is running according to schedule and budget.
Tasks: Schedule the installation, answer questions from the customer, teach the customer how the new system works, apply for permits, and file paperwork with jurisdictions.
Training: Experience working in construction or other project management or administrative position. Direct knowledge of solar or a degree or certificate in renewable energy is a plus.
Why become a project manager/administrator? You like people, whether helping the customer or working with the electrical inspector. You like details and scheduling and getting out of the office a few times a week. You get to interact with people from all departments within the company.
Salary: $$-$$$
Estimating

Estimators analyze all the materials and time needed to perform a job and come up with a price to the customer that is competitive yet profitable.
Tasks: Understands the technical design and how different methods and materials can affect system cost, deliverability, and longevity. Collaborates closely with design to marry product and price to set up the company for success.
Training: Electrical engineering or solar-specific degree or certificate recommended. Knowledge of construction processes, timelines, best practices, and risk mitigation.
Why become an estimator/system designer? You enjoy choose-your-own-adventure games with complex rules and lots of ways to win if you're quick enough and smart enough.
Salary: $$-$$$
System Design

System Designers layout the arrays, size the electrical equipment, and create the drawings that the installers build from.
Tasks: Designs and develops site plans for solar panel installation. Use apps to design PV systems, including accurate system sizing calculations and diagrams
Training: Electrical engineering or solar-specific degree or certificate recommended. Knowledge of electrical design.Designers should have good visuospatial skills and keen attention to detail.
Why become an estimator/system designer? Using your brains, you create custom designs for homeowners and businesses. You are the artist, and the crew fulfills your vision.
Salary: $$-$$$
Sales

Sales people (or solar design consultants as we call them) sell solar projects. They educate home and business owners about how solar energy systems work, design a system that meets their needs, and help them understand financing.
Tasks:Meet with home and business owners. Take readings on roofs to calculate how many panels a project might need and how trees, chimneys, and other factors might impact a system's performance. You are on the phone and in your car a lot!
Training: Bachelor's degree. A good understanding of solar and electricity. Previous sales experience.
Why go into solar sales? Money! And you get to be part of the solution to climate change. You make a commission off of each sale and don't usually work the typical 9-to-5 grind. You travel and meet a lot of different people. You also get to geek out on the various options for the general design of a system.
Salary: $$-$$$$
Accounting

The accounting department makes sure the bills and employees are paid, as well as that customers have sent in their payments for their projects.
Tasks: Billing, paying the bills, helping customers, working with banks and online payment centers, and making sure employees get paid. Tracking and reporting the overall performance of our installations.
Training: Bachelor's degree is desired. Bookkeeping experience is great to have.
Why go into accounting? You love numbers and order. You are always the most popular member of the team because you give everyone their paychecks!
Salary: $$-$$$
Marketing

The marketing department brings in new potential customers while publicly building the brand and reputation of the company.
Tasks: Creates campaigns to bring in new customers, oversees the website, social media, events, collateral, and branding. Works to engage current customers and stakeholders.
Training: Get a bachelor's degree in marketing and some experience. A couple courses in solar or a certificate in renewables would be a plus.
Why go into solar marketing? You love social media and designing and writing content, whether it's for the web, video, pamphlets, or the press. You get to be creative all day long.
Salary: $$-$$$
How do you start your career in solar? At A&R Solar, we come from a variety of backgrounds. Some of us have served in the military. Others have worked for large tech or construction companies. Others come from nonprofits and union jobs.
Take a look at our solar career mind map to see what roles might be right for you.
Positions like electricians require specific training and state licenses; other roles would benefit from a solar program or certificate. Below we've listed a handful of relevant education opportunities–mostly in our home states of Washington and Oregon–that you might want to scope out.
Puget Sound Electrical Apprenticeship
Puget Sound Electrical Joint Apprenticeship Training Committee
550 SW 7th St. Renton, WA 98057
(425) 228-1777
psejatc.org
TRAINING TO BECOME: A licensed electrician
OVERVIEW: Provides training required to receive certifications in Residential Electrician. PSEJATC is jointly sponsored by the Puget Sound Chapter of the NECA (National Electrical Contractors Association) and IBEW local 46 (International Brotherhood of Electrical Workers).
AGE: Must be at least 18 years of age. There is no upper age limit.
EDUCATION: Must be a high school graduate or have a GED (see website for specifics)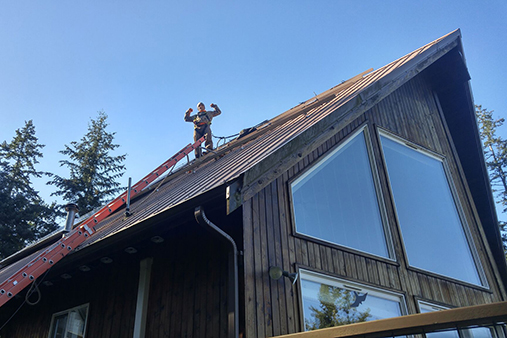 NECA-IBEW Electrical Training Center
Apprenticeship Programs
16021 NE Airport Way, Portland, OR 97230
(503) 262-9991
nietc.org
TRAINING TO BECOME: A licensed electrician
OVERVIEW: Provides training required to receive certifications in Residential Electrician
EDUCATION: Must be a high school graduate with a 2.0 GPA (graduation date must be reflected on transcripts) or a GED score of 2550 or 255 if prior to January 2002, or an AA Degree or higher from an accredited school. This is not a requirement BUT acceptable in lieu of a High School Diploma.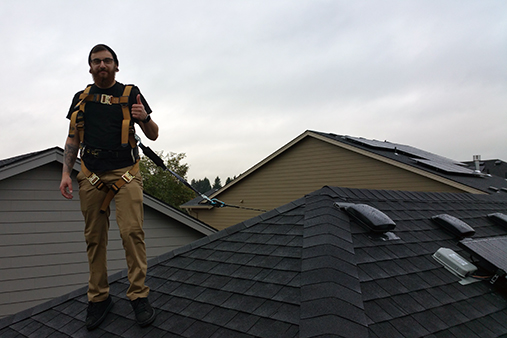 Perry Technical Institute
Electrical Technology Program
2011 W. Washington Ave., Yakima, WA 98903
(509) 453.0374
perrytech.edu
TRAINING TO BECOME: A licensed electrician
OVERVIEW: In the two-year program, you'll learn how to install, connect, test, and maintain electrical systems for industrial, commercial, residential, process control, security, and communications. The Washington State Department of Labor and Industries recognizes two years of training received from Perry's Electrical Program toward journeyman certification.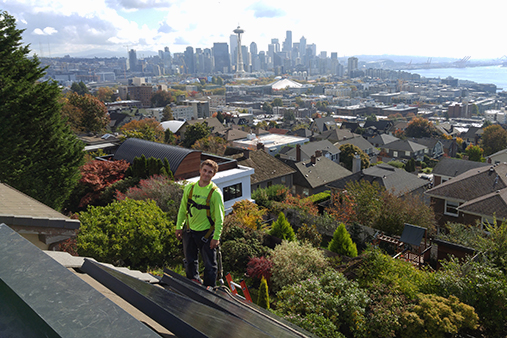 CITC of Washington Apprenticeship
Construction Industry Training Council
(877) 707.2482
1930 116th Ave NE, Bellevue, WA 98004
citcwa.com
TRAINING TO BECOME: A licensed electrician
OVERVIEW: State-licensed, vocational trade school for the construction industry offering training throughout Washington State
AGE: Must be 18 or older
EDUCATION: Proof of high school graduation or GED. Official transcript(s) showing courses and grades. Algebra requirement of a 'C' average or better. Successfully complete the Scheig Test ($35) administered by CITC.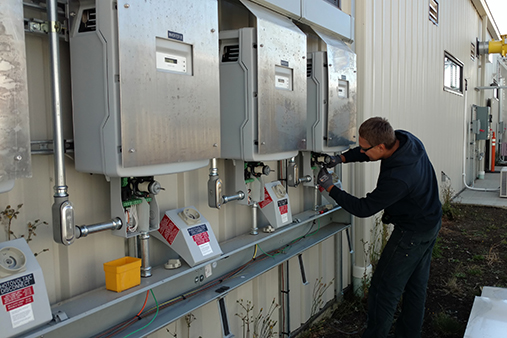 State of Oregon Apprenticeship and Training Division
Renewable Energy JATC
800 NE Oregon St., Suite 1045, Portland, OR 97232
(541) 279-1543
oregon.gov
TRAINING TO BECOME: Licensed roof technician
OVERVIEW: Provides training required to receive certifications as a licensed limited renewable energy technician
AGE: Apprenticeship applicants must be at least 17 years of age to apply, and 18 to begin the program.
EDUCATION: Proof of high school graduation or general education development (GED) equivalent, and successful completion of at least one year of high school mathematics or an equivalent post-high school placement test or course
PROFESSIONAL/TECHNICAL TRAINING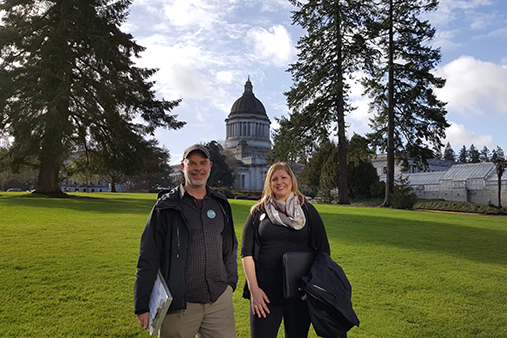 Shoreline Community College
Clean Energy Technology and Entrepreneurship program (2-year or 1-year)
16101 Greenwood Avenue North, Shoreline, WA 98133
(206) 546-4101
shoreline.edu
TRAINING TO BECOME: Solar PV system designer, PV sales, project administrator
OVERVIEW: Prepares graduates with the theoretical and practical knowledge necessary for careers in firms that manage, design, build, market or operate clean energy technologies in the built environment. The program focuses on clean energy technologies and practices that can achieve (or approach) Net Zero Energy in buildings.
Shoreline has added a class in PV Technical Sales.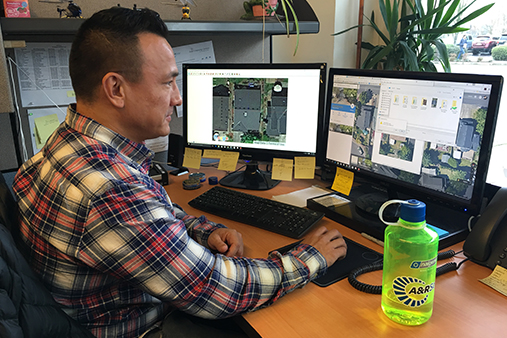 Oregon Tech
Renewable Energy Engineering
Klamath Falls and Portland locations
(800) 422-2017
oit.edu
TRAINING TO BECOME: Solar PV system designer, project administrator
OVERVIEW: Graduates of the program will be prepared for immediate employment as design engineers, field engineers, plant engineers, utility engineers, energy auditors, renewable energy system integrators for homes and businesses, local and state government renewable-energy planners, and other positions in the energy field; or for graduate study in REE or other related fields.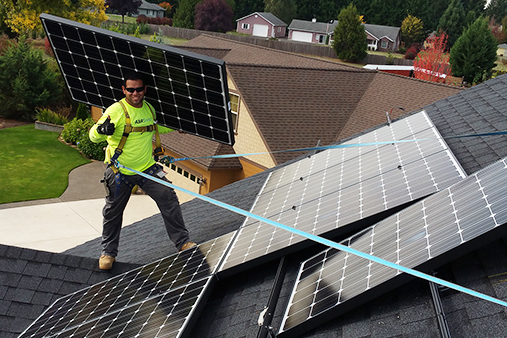 TRAINING TO BECOME: Sales, design, installation, project administrator
OVERVIEW: Provides training online and in the classroom as prep for NABCEP certification, the gold standard in the solar industry. This course introduces the financial, environmental, and ethical benefits of choosing solar and teaches participants how to communicate these incentives to clients. Designed to teach individuals how to physically install solar panels and the balance of components, including inverters, charge controllers, and battery banks for grid-tied and off-grid systems.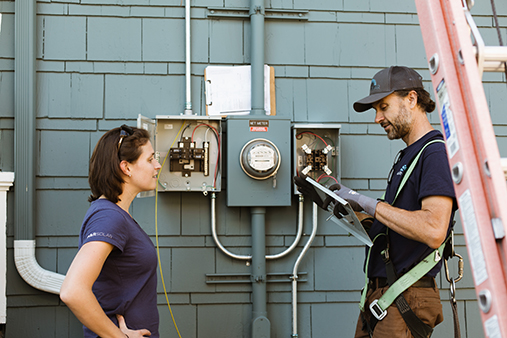 TRAINING TO BECOME: Sales, design, installation, project administrator
OVERVIEW: Provides training online and in the classroom as prep for NABCEP certification, the gold standard in the solar industry. Students can take certain classes online, and hands-on training is held in Colorado. SEI is nonprofit dedicated to solar education.
Ready to join us?
Apply now!
More than just a living wage
We invest in our employees with a wide range of benefits and perks.