What to expect the day of your installation
It's your big day! Our crew will be onsite to install your system, and an installation usually takes 2-3 days depending on the complexity. Here are the key things you should know.
The installation
Your crew will consist of an electrician and at least one roof technician, and the installation typically takes between two and three days. (Learn how all of the components work on your solar energy system.)
On the day of your installation, the lead installer will call you to let you know the crew is on its way.
The crew will usually need to enter your house to access the electrical panel and attic or crawl space. They will want to know if it's okay for them to use your bathroom. Because of the short duration of our installations, we typically don't arrange for a portable toilet to be delivered to the job site, however it is an option. We may also ask your permission to leave some equipment overnight if you have a secure location like a shed or garage.
Before we arrive on site, please remove all clutter in front of your electrical panel. If you were told that the inverter will be mounted in the garage, make sure to remove all tools or shelving off the wall at the inverter location.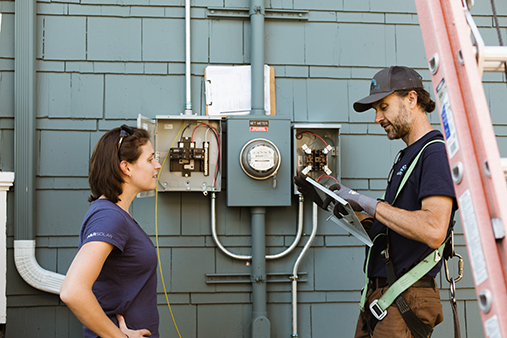 There will be some noise as we make the attachments to your roof. Depending on your home office location you should have no disruptions to your normal workflow. If you have a concern, make sure to bring it up with your project manager so they can tell you when louder noises may occur.
For most typical installations there will be no interruption of power. If you are adding a battery storage system or upgrading your electrical service, we will need to interrupt your power. Your project manager will walk you through how long that might take and when so you can plan accordingly.
Meet your system
Once installation is completed, an electrician or lead installer will walk you through how your system works. Most times, this happens the day we wrap up the installation, but if you aren't home, we will schedule another time.
During the walkthrough, we will show you all parts of your solar energy system, starting with your solar array and ending with your inverter. You will learn what to watch for, how to read your inverter, and how to manually shutdown and restart your system. Feel free to ask questions!
TAKE ADVANTAGE OF OUR FREE CONSULTATION SO WE CAN PROVIDE THE ANSWERS YOU NEED TO MAKE AN INFORMED DECISION.