2022 Social Purpose Corporation Report
Report to employees, customers, and shareholders
A&R Solar


putting people and the planet above profits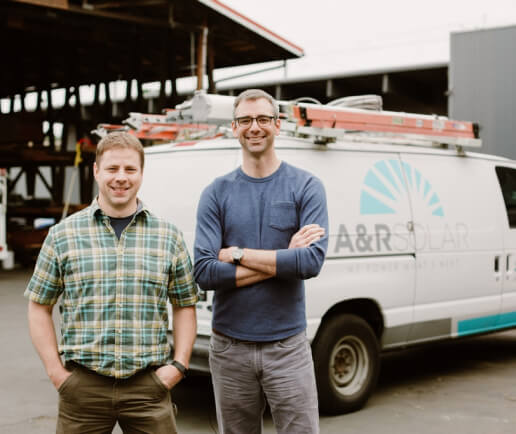 From day one, we set out to make this company different from "business as usual." We believed that if we followed the Golden Rule to treat our customers and employees as we would want to be treated, then the "gold" would follow.
That's why at A&R Solar we have always looked for ways to invest richly in our employees, communities, and the industry we serve. We hope our example motivates other businesses to do the same.
As a Social Purpose Corporation, we have encoded into our corporate bylaws our commitment to put the good of people and the environment ahead of short-term profits for shareholders. It is a unique responsibility, and this annual report is an accounting of how much we cherish it.
Year after year we install more megawatts, welcome more employee-owners, and support more local nonprofits. We seek to minimize the ethical and environmental impacts of our day-to-day operations, and maximize our social impact within our business and our industry. We welcome your reflections and questions on this 2022 report, and most of all, we thank you for your role in making this work possible.
Turning corporate profits into community benefits
December is our favorite time of year at A&R Solar. That's when each of our (now 60!) employee-owners directs a portion of our company's earnings toward a non-profit organization of their choice.
We also ask our customers where we should give back, to make sure we support a broad range of local organizations best equipped to address the issues they care most about.
2022 was a good year for us:
Donations made to 156 charitable organizations
$29,970 in contributions
Contributions spread over numerous counties in Washington and Oregon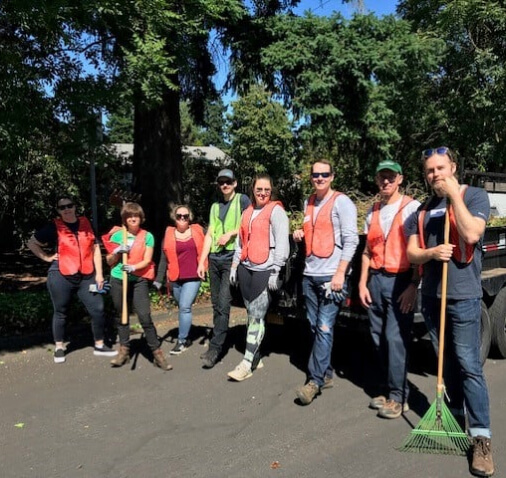 Doing right by our employees


When we started A&R Solar back in 2007, we didn't just want to make a positive impact on the environment. Our #1 priority was to make A&R Solar an amazing place for people to work. We set out to do business differently from how we had experienced it in the past.
What did that look like in 2022?
Added 17 new employee-owners for a total of 60
Paid a living wage and expanded benefits for all employees
Promoted work-life balance, with remote work for some, and a 4-day workweek option for many others
Embodied a culture of respect in which managers listen to recommendations and seek feedback from all employees
Setting an example for Washington social purpose corporations
It all comes back to the Golden Rule. We believe in treating our employees and our customers the way we would want to be treated.
We truly listen. We act transparently and responsibly. And when we mess up, we make it right at our own expense. Our goal is to lead a "race to the top" by competing on values, that can make a difference in our industry as a whole.
After all, every solar company in the Northwest is competing for the same employees and customers at similar wages and similar prices. If others treat their employees and customers better in order to compete more favorably, everyone wins!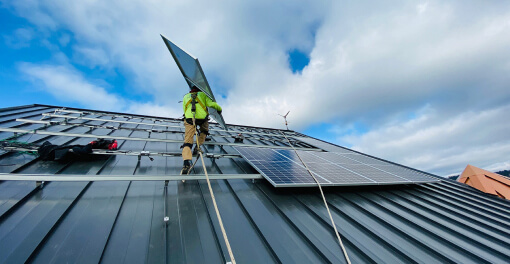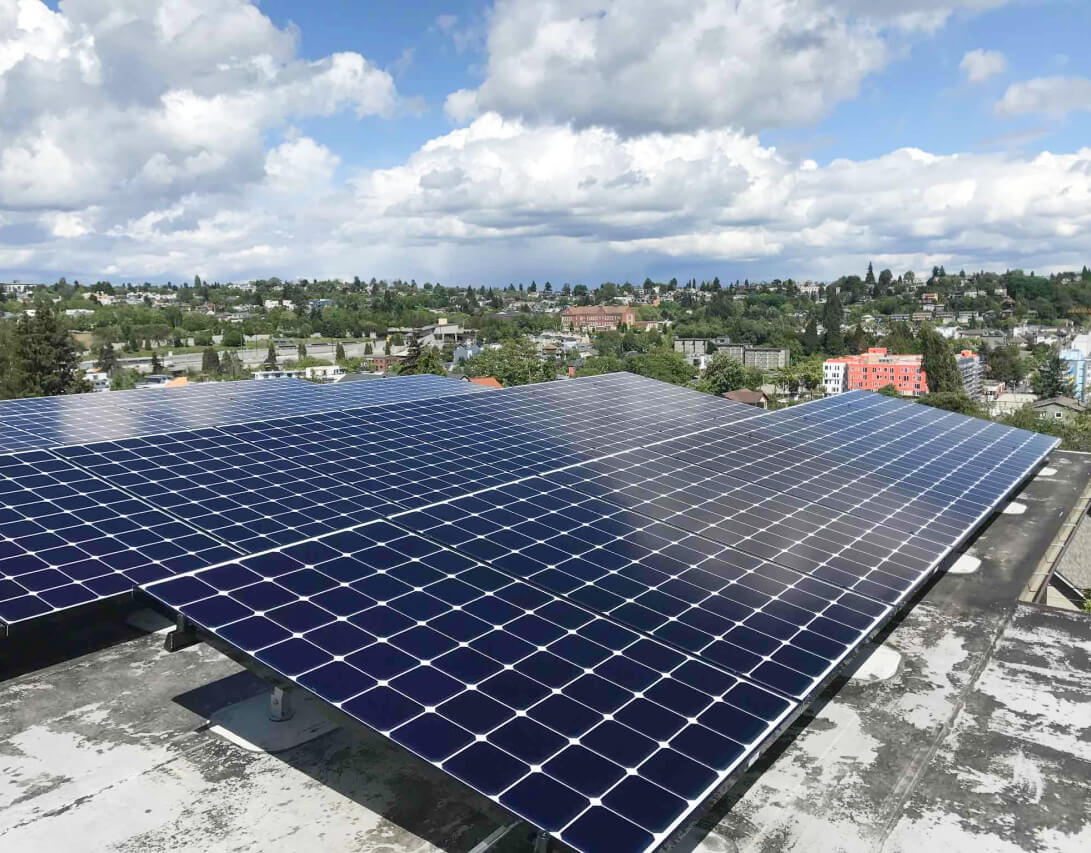 2022 environmental impact
8,478
kilowatts
solar capacity installed by our customers in 2022
107,971
metric tons of co2
lifetime (25 years) expected offset by A&R's 2022 installs
39,328
megawatt-hours
generated by all A&R solar customers in 2022
Responsible use of resources as a business
In 2022 we faced new and old challenges to doing business as a social purpose corporation.
Reducing waste
Under the watchful eye of our Sustainability Team, we continue to reduce and reclaim 100% of the recyclable packaging and construction waste produced by our solar installations, including nearly 40,662 lbs of scrap metal in 2022.
Fossil fuel usage by employees
The lack of EV options for commercial trucks and vans means our installation team's gas usage remained relatively unchanged in 2022. We continue to have lower commuting miles to the office than pre-pandemic; however, we hope to better balance this environmental "good" with the social "good" of feeling more connected with one another by working more in-person in 2023. Our Clean Commuting stipend helps to encourage employees to ride their bikes, carpool, or take public transportation when practical.
Responsible sourcing
Where do the raw materials for the manufacture of solar panels and batteries come from? This is a relatively new area of concern, but one that we take very seriously. We actively avoid supporting companies, directly or indirectly, that may be connected to human rights violations such as slave labor, which we adamantly oppose.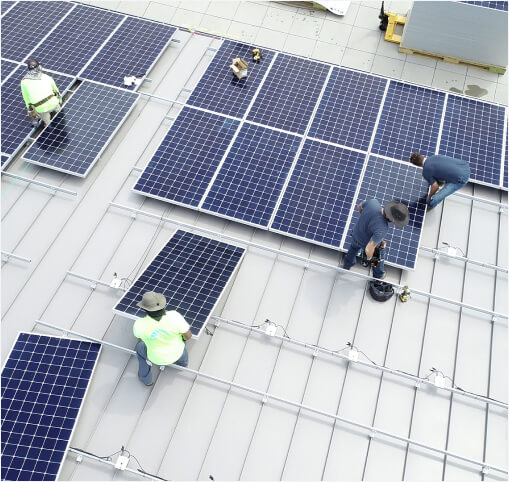 Our carbon footprint, by the numbers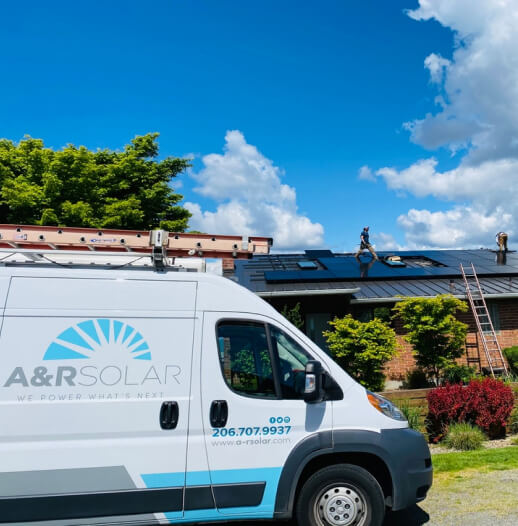 Our commitment to sustainable operations includes limiting trips and utility usage, and taking an annual inventory of our carbon footprint:
Impact from installing solar on homes and businesses
879,940 miles driven
51,401 gallons of gas consumed
373 ferry trips in Washington
3,330 train miles between Seattle and Portland offices
30,030 airline miles to solar conferences
Total of 505 metric tons CO2 equivalent
Keeping the lights on
It took 35,277 kWh of electricity and 6,941 therms of natural gas to keep our rented offices and warehouses warm and functioning in 2022. That's about 40.8 metric tons of CO2, or roughly 8% of our total impact.
Offsetting our emissions
Each year we purchase carbon credits to offset our fossil fuel usage at the office, on the roads, and in the skies so we can proudly state that we are a carbon-neutral company. We're also proud of the fact that the PV systems we installed in 2022 will prevent the emission of 181x more metric tons of CO2 than it took to install them!
Moving the clean energy industry forward
Public policy continues to play an important role in our work. One of our major priorities is to lobby at the state level for legislative action that makes solar more attractive and affordable in Washington and Oregon. In 2022, three A&R employees served on the board of directors for solar advocacy organizations, including OSSIA, WASEIA, and the CleanTech Alliance. Our efforts helped to further advance solar policies surrounding net metering, building energy codes, state solar rebates, community solar, and expanded access to low- and moderate-income individuals. We also supported other clean energy and low carbon initiatives such as electrifying transportation and implementing statewide greenhouse gas reduction targets by supporting and collaborating with several Northwest advocacy groups.
While we're happy to put in the heavy lifting via our day-to-day policy work, our progress ultimately comes from the tens of thousands of homeowners and small businesses choosing to go solar every day. Thank you!