Seattle solar panel Installation
SEATTLE-AREA SOLAR + STORAGE DESIGN AND INSTALLATION

Reduce your
carbon footprint

Shrink your
electric bill


Reduce your carbon footprint

Shrink your electric bill

While electricity rates continue to rise for Seattle homeowners and the Puget Sound region, the cost to install solar panels in Seattle has gone down thanks to Washington solar incentives.
With over 4,000 solar installations completed, and 15 years of residential and commercial installation experience, including Tesla Powerwall installation, A&R Solar remains one of the most trusted solar companies in Seattle.
Is solar worth it in Seattle?
Solar panels in Seattle are a great way to reduce energy bills, add value to your home, and reduce your carbon footprint. Thanks to long summer days in the Pacific Northwest, solar panel production often exceeds a household's energy usage. That means solar panels can eliminate your electricity bill altogether.
In addition to more sun exposure, it may come as a surprise that solar panels operate more efficiently in cooler weather—a fact that makes solar panels in Seattle worth the investment in the long term given Seattle's temperate environment.
Additionally, local utilities like Puget Sound Energy and Seattle City Light offer net metering programs that will credit you for your excess solar panel production. That means the power from your solar panels is never wasted.
A solar home will always use electricity from its solar energy system first, while excess energy is "banked" in the form of solar energy credits with your utility. These energy credits help reduce billable consumption in future billing periods. Most customers will accumulate energy credits in the summer months and begin using any available energy credits in the fall/winter.
Do solar panels work in Seattle
Does solar make sense in Seattle? To answer that question, take a look at Germany, the world leader in installed solar capacity. While Washington receives 17% more sunlight than Germany, Washington produces far less solar energy overall given Washington's lack of installed capacity. Therefore, it's not an issue of enough sun in Washington; rather, it's the lack of solar panels in Seattle.
The table to the right provides some analysis of how much energy a solar panel will produce in western Washington each month in kWh.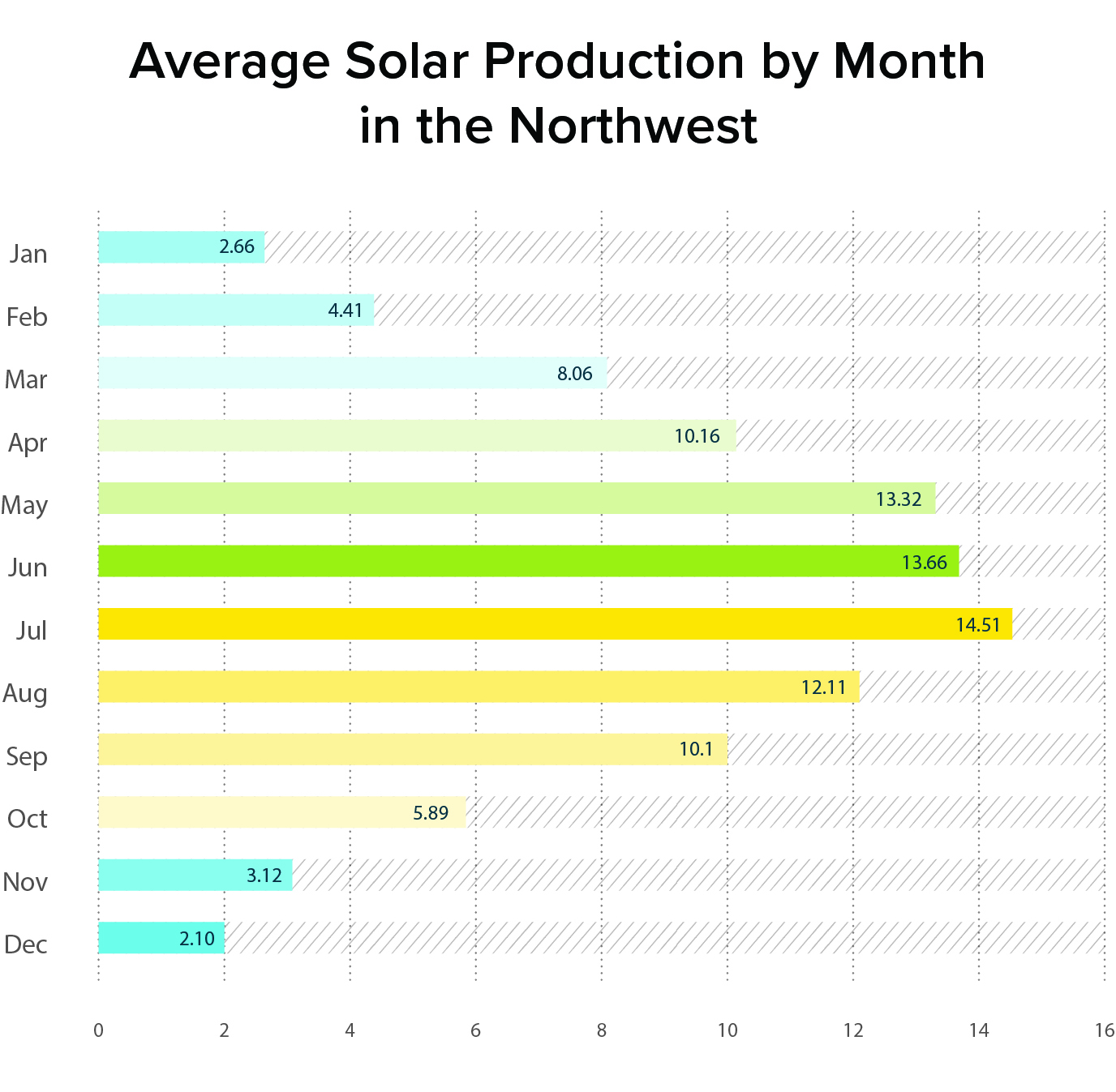 Washington solar incentives
When considering solar in Seattle, homeowners will have solar incentives at the federal, state, and local levels, making the cost of solar panel installation more affordable. To maximize your return on investment, consider the following solar incentives:
Federal solar tax credit: Congress has extended and restored the federal solar tax credit to its full, original rate. This means that homeowners and businesses who install solar and/or battery backup systems between 2022-2032 will receive a 30% tax credit. A tax credit is a dollar-for-dollar credit on the income tax you owe. Businesses can receive an additional 10% tax credit if they use American-made products and materials, and battery storage systems no longer need to be paired with solar to qualify for the credit.
Net metering: Net metering is a contract that you sign with your utility that allows you to trade your power with them at retail rates. Typically in Washington, we produce more energy than we consume during the summer and build up energy credits. Then during the less-sunny winter months, we use the accumulated credits to reduce electricity bills.
Increased resale value: There is evidence that homes with solar sell faster and for more money than comparable homes without. A study out of California concluded that the premium for which solar homes sell is about the same as what the homeowner paid for the system in the first place. Zillow reported a 4.1% average lift in home appreciation on homes with solar over those without. In the meantime, you're saving money on your bill every month.
Cost of solar panels in Seattle
The cost of installing solar panels in Seattle depends on factors that are unique to each homeowner. Designing a system that meets your energy needs and your budget requires asking a few questions: Why are you interested in installing solar? Do you want to eliminate your electricity bill, save money, reduce your carbon footprint, or maybe increase the value of your home?
The cost of solar panels in Seattle includes three main factors: construction characteristics of your house (roof material, height, steepness), solar equipment choices (economy, premium, or extra features), and where you live (permitting costs and available incentives).
When considering the cost of solar panels in Seattle, it helps to hear from homeowners who've already installed solar on their homes. Here's what some of our customers have to say…
If you'd like to speak with a homeowner directly, please feel free to ask for references. We are happy to connect you with one of our customers in the Puget Sound area!
How much will you save with solar panels?
Do solar panels really save you money, and if so, how much? The simple answer is yes, solar panels will save you money in the long term. How much will depend on factors including current energy usage trends, the size of the solar panel system, tree shading, solar incentives, and most importantly, the price you pay for electricity.
Offsetting 100 percent of your electricity bill can be achieved by designing your solar energy system based on energy usage trends. What's more, net metering will ensure excess power produced in the summer will offset energy expenses in the winter. With that in mind, a household could be saving thousands of dollars each year by reducing its electricity bill.
One thing that's worth noting is something we call the solar effect. After installing solar, customers start paying more attention to their energy usage and carbon footprint. They consider installing more efficient heating and cooling systems like heat pumps. They read their electricity bills and start to pay attention to the energy used, not just the dollar amount. For many, this becomes a fun challenge to do better and reduce consumption so that their solar array can offset more of their usage.
The bottom line is that any amount of solar can save you money while providing you with clean, free, renewable energy from the sun for decades. With incentive programs, you are essentially getting paid to produce electricity while doing your part to help our society pivot away from fossil fuels.
Learn more about solar financing
The cost of solar panels in Seattle may seem pricey, but it's actually more affordable than you think. With solar financing options provided by A&R Solar's financial partners, most homeowners can expect low-interest solar financing options that generally offer zero-down with no fees. The only collateral on the loan is the solar equipment.
Why choose A&R Solar as your local Seattle solar installer
Besides being employee-owned and a Certified B Corporation, we're also a Social Purpose Corporation. What does that mean? It's a unique responsibility that emphasizes the commitment to putting the good of people and the environment ahead of short-term profits for shareholders. It means adhering to practices that minimize the ethical and environmental impacts of our day-to-day operations, while also maximizing our social impact within our business and our industry.
When choosing A&R Solar to install solar panels on your home, you're choosing a local solar installer that invests richly in their employees, communities, and the industry which we serve.
INDUSTRY-LEADING GUARANTEE
You will receive our "Perfect 10 Guarantee." A&R provides 10-year warranties on your residential system's performance, workmanship, and labor. This is on top of manufacturers' warranties, which are typically 25-30 years.
We're one of the Northwest's oldest and most trusted solar installers. A&R Solar is employee-owned and operated, and our executive team and staff live and work in our communities. With no company debt, we are here for the long haul.
Your system will be designed to take advantage of current financial incentives with an eye on the future to make sure that adding new technology (like battery storage) will be as seamless as possible.
Your solar array will have the highest quality modules, inverters, and racking materials that have been vetted by our Research & Development team, which is comprised of every department within our company.
Your team consists of highly-trained professionals who are our full-time employees (not subcontractors or working out of remote call centers). In fact, we have more NABCEP-certified employees than any company in the Northwest.
HIGH QUALITY INSTALLATION
We never cut corners. We go above and beyond the competition to ensure the highest quality solar PV system installation. We take quality and your family's safety seriously.
TAKE ADVANTAGE OF OUR FREE CONSULTATION SO WE CAN PROVIDE THE ANSWERS YOU NEED TO MAKE AN INFORMED DECISION.