What You Should Know About Solar Battery Storage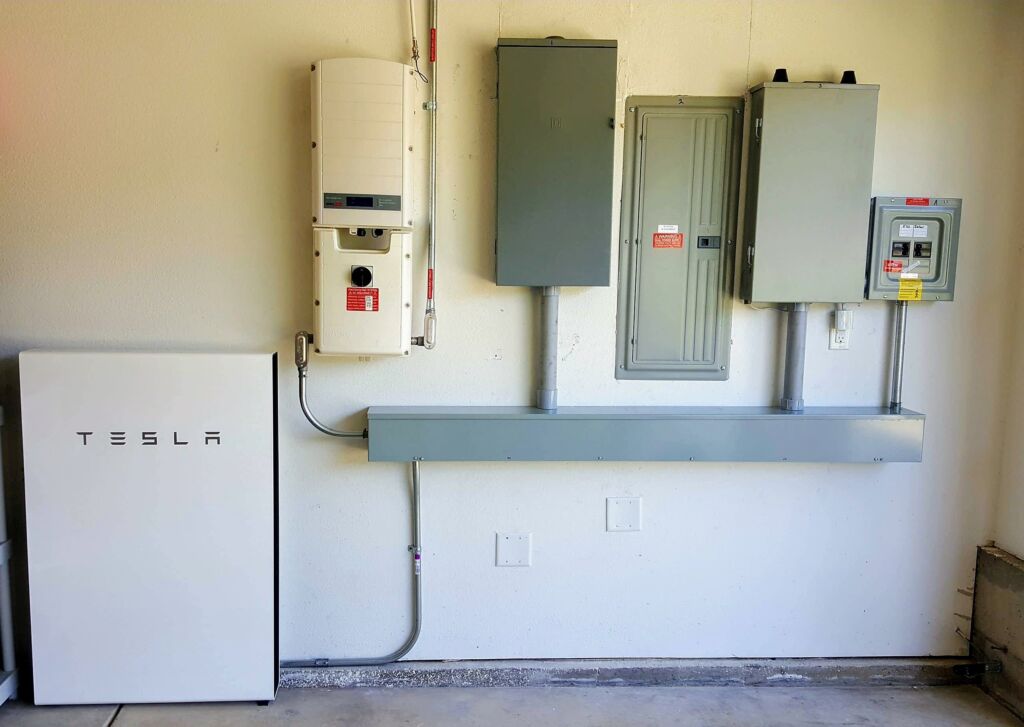 NOTE: This information is possibly outdated. Please reference our incentives page for current information.
UPDATED: A&R Solar is a Tesla Powerwall Certified Installer in Washington and Oregon. Learn more about Powerwall and battery storage.
When the power goes out, will you be ready? The emerging solar battery storage market will offer solar homeowners peace of mind during outages and natural disasters, while safeguarding against spikes in electricity rates. The cutting-edge products available to us in the Pacific Northwest aren't quite ready for prime time–yet. Several companies are planning major product releases in the coming months, and we are eagerly looking forward to testing them.
As we are all getting ready for new storage technology, here are some things we thought you might find helpful to know about battery backup and solar:
When the grid goes down, so does solar
Grid-tied solar PV systems are required by code to shut down during outages to prevent sending energy back to the grid, where utility workers may be fixing lines, when batteries are not present.
Storage can keep the lights on
Solar plus storage allows you to keep at least part of your home powered during power outages. Common things we can backup include:
Refrigerator / freezer so your food doesn't spoil
Furnace fan and ignitor to keep your house from getting really cold and your pipes from freezing
Lights
Outlets to charge your phones and devices (your kids will thank you for it)
Internet router and security systems
Looking ahead to Time of Use charges
Battery storage prepares those in the Pacific Northwest for expected Time of Use charges. Utilities in other states charge varying rates for electricity depending on real-time demand, and storage allows you to use your stored power during the peak rate times, saving you money and eliminating the need for utilities to build new capacity.
Better than generators in many ways
Storage is safer, cleaner, and quieter than generators…and the power source is renewable.
Tesla leads the pack
The Tesla Powerwall is the best known of the lithium-ion battery products, but there are a number of credible competitors emerging.
The trifecta of green
Solar + storage + electric vehicles (EVs) offers environmentally-conscious people the opportunity to drastically reduce their carbon footprint.
Tax credit eligible
Battery backup can qualify for the 30 percent federal tax credit when it is coupled with solar.
Zero-down financing
Local credit unions extend their low-interest, zero-down financing to storage solutions.
The cutting-edge
Battery storage is an evolving technology, and we will be testing the most reputable products to make sure they are a good fit for our climate in Washington and Oregon.
EVs have limits for storage
Some EV owners think they can use their vehicle for backup power. You can certainly store energy, but unfortunately they are not designed for meaningful home backup. You can use your car to charge your phone or other low-powered appliances via the 12 volt outlets when the grid is down. Some EVs even have a 110 volt outlet that can power things like a laptop, but until car makers support access to the high voltage battery system, there isn't much to work with. Today, solar works in unison with battery systems and the grid. In the future, we expect to eventually have EVs as a part of home backup solution.
SIGN UP TO GET STORAGE NEWS AND NOTIFICATIONS
Sign up to receive our newsletter to learn about storage news and product releases in Washington and Oregon.