Your Property Could be Just Right for A Solar Farm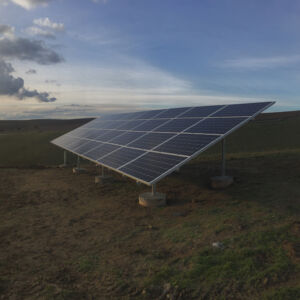 As the costs of renewable energy continues to come down–even passing coal and natural gas in some markets–solar developers are increasingly looking for land to host solar projects. Here are a few helpful tips to find out if your land is a good resource to become a solar farm.
How much acreage do you have?
One megawatt of solar typically requires 6-8 acres of land. The typical solar farm (which is getting bigger and bigger over time) is around 5-20 megawatts, so it could require between 30-150 acres.
Is your land located next to existing transmission infrastructure?
Nearby high voltage transmission lines or substations are key elements of connecting a solar farm to the grid so that it can be sold to utilities. Building extra transmission infrastructure can be so cost prohibitive that it ruins the potential of a solar farm. The best locations are next to existing infrastructure.
Are you ok with a long development cycle?
Successful solar farms can take between 2 and 5 years to develop. Permitting, financing, and construction are significant tasks. Developers typically ask for a short-term lease during the development phase followed by a long-term lease once a project is ready to be built. Get ready to be patient.
Does your land have good solar exposure?
Hopefully your land is flat, has perfect southern exposure, and is located in an area that receives a high level of sun each year. You can use tools like PV Watts to look at the solar potential of your land.
Will the local utility buy the power generated by the solar farm?
This might be the most important piece of the puzzle as there are countless plots of land around the country that fit the aforementioned qualities. But successful solar farms require one more key ingredient: customers. A regional utility or large commercial customer needs to be ready and willing to buy the power produced by the solar farm. Not sure if your local utility is looking to acquire solar? Give them a call and find out!
A 100% clean energy future will require plenty of land for solar farms. Take a look at this informative video on what you can expect from your solar farm. We're eager to evaluate your property!