New affordable housing Eleanor Apartments in Bellingham, Washington, goes solar to help protect the environment and assist with city's housing crisis.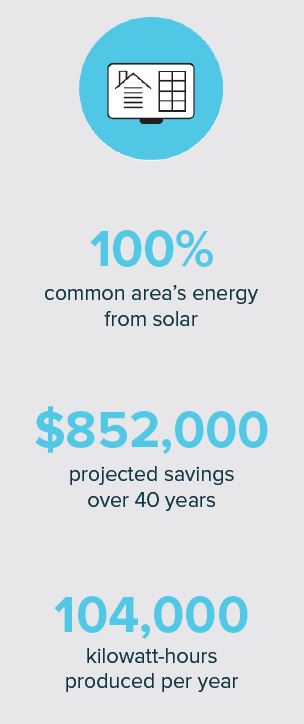 Mercy Housing Northwest developed and operates the Eleanor Apartments, a new affordable senior housing community located in Bellingham. The nonprofit decided to add solar power to its affordable housing community when it was being designed. This was done as part of their agency-wide environmental sustainability program in an effort to reduce operating costs so they could serve very low income seniors, and to reduce waste and consumption of natural resources.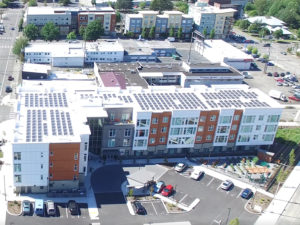 The 99.9 kW system installed by A&R Solar is also projected to save the property an estimated $852,000 over the next 40 years, allowing Mercy Housing to apply these savings to building maintenance costs and to the considerable array of resident services programming they offer.
Solar helps make affordable housing a possibility for more seniors.
Securing affordable housing in Bellingham is a challenge, particularly for the elderly who sometimes have to wait up to three years for an opening in an affordable housing facility. Given that the city estimates that 75% of senior rental households are low-income, Eleanor Apartments clearly fills a need. This is Mercy Housing Northwest's sixth housing project in Whatcom County. The senior community has 80 apartments, a community center for resident programming, and health and wellness services. As part Mercy Housing Northwest's commitment to environmental stewardship, the building incorporates advanced design elements to improve energy performance and provide a healthier living environment. A solar PV system was a logical addition.
The Eleanor Apartments construction was paid for using the Low Income Housing Tax Credit program, WA Housing Trust Funds and about $2 million from the City of Bellingham, through a city voter-approved initiative to create a local housing trust fund to provide affordable housing in the City. Solar power and other energy efficiency features are important to Mercy Housing's environmental mission and desire to keep costs down. Fortunately, these were included in the funding for the apartments. A&R was no stranger to this kind of job, having already installed solar for several affordable housing projects and a pipeline of a few hundred kilowatts of future projects in the works. During the installation, A&R coordinated their efforts with other contractors on site to work around equipment and vents on the roof and included a hybrid ballasted/attached system to accommodate structural considerations from the City of Bellingham. Further adding to the benefit to the local economy, A&R sourced the PV panels from Bellingham-based manufacturer Itek Energy.
One month from starting the process, the solar system was online and will provide a significant amount of the building's power over the decades to come. The solar system represents a perfect synthesis of Mercy's commitment to stewardship of both Whatcom County's seniors and the environment.