We inform potential customers that they should have 10 years left of roof life before they install solar panels.
Why? It's quite costly to take off the equipment and then put it back.
The work involved with remove and replace (R&R's) is actually quite similar to the initial solar installation itself, costing your installer roughly around ⅓ of the original price of the project. So a $36,000 project might cost you $12,000 for an R&R, depending on several variables at the time of quoting.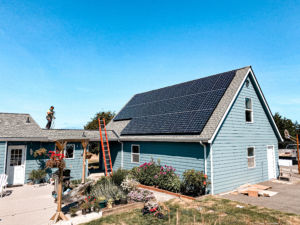 We've heard of some solar installers in Washington and Oregon claiming ridiculously low costs for an R&R in order to get a customer to sign a contract. "Don't worry about your roof. It will be cheap to take the equipment off and put it back on."
We would put on our readers and look at the fine print.
In our experience, companies who tend to offer R&R's for that type of price either A) don't plan to serve the market very long (i.e. leave when local solar incentives dry up) or B) are recklessly offering something the solar installation business model simply cannot afford.
These aren't formulas for a business planning to serve the customer for the 25+ year life of the solar installation. We've seen plenty of high profile solar installation companies with similar business practices bear this out leaving customers high and dry (Legend, Auric). And by the way, most solar installers are too busy with their own customers to help folks with "orphaned" solar systems.
A&R is focused on high-quality implementations that add value to your home with impeccable workmanship and we cut no corners in doing so. We promote internally, we offer employee ownership so all departments are invested in customer outcomes & satisfaction, and we pay a living wage to the families of A&R Solar. We have more NABCEP certifications than anyone in the Northwest as we reinvest in training our employees, we have higher cumulative customer ratings (Energy Trust, Yelp, SolarReviews, Google, Facebook) than anyone in the Northwest, and we've designed/installed more Tesla Powerwalls than anyone in the Western U.S. outside of California (they provide only battery system that has passed our rigorous R&D process), and in our 14 year history have outlasted the bankruptcy or departure of a host of solar contractors. We invest in policy supporting residential & commercial solar through OSSIA, Solar Oregon, and SEIA. We have a dedicated service team to make good on our warranties and recall coverage. We volunteer our time on technical advisory committees. We are charitable and volunteer within our community. 
In short, if you can get that contractor to include that too-good-to-be-true remove and replace price in writing within your contract, signed by an officer of their company, by all means you'd be getting the deal of a lifetime and you could take a gamble. Otherwise, we'd strongly consider selecting an OSSIA or WASEIA member company with impeccable online reviews and a more transparent method for pricing R&R's that account for real-world labor costs.