A&R Solar has done more than 600 installations over the last eight years, but the one we will do in Bellevue at the beginning of September will truly be unique.
Two words: Spandex. Capes.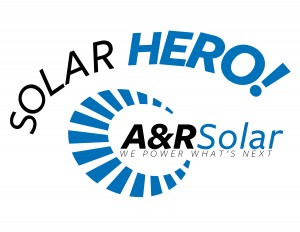 That's right. Our installers will don superhero costumes to install a 16-panel solar energy system on the future home of the KidsQuest Children's Museum in downtown Bellevue. With a steep metal roof and our guys in bright yellow body suits, the installation should be quite the sight to behold.
The installation is a donation from A&R to KidsQuest as part of the Solarize Bellevue campaign. It's our way of saying thanks to the community for selecting us as the installer for the Solarize program.
The public is welcome to drop by, take photos, and learn more about the museum, solar energy, and the City of Bellevue's clean energy initiatives. The installation is set to begin around 11am.
KidsQuest is an educational facility dedicated to engaging children and families in science, technology, engineering, art and math through play. The 4.5 kW solar energy system will serve as a powerful environmental teaching tool and help offset the museum's overall energy costs.
KidsQuest is moving from its Factoria location to downtown Bellevue in the fall of 2016 to the former location of the Rosalie Whyel Museum of Doll Art on 108th Avenue NE and NE 12th Street. KidsQuest's new home will provide more exhibit space, more classrooms, an outdoor space, and brand new hands-on exhibits.
The solar system is being installed while the building's interior is being renovated for the museum opening.
KidsQuest Children's Museum