Congresswoman Suzanne Bonamici visited our Tualatin office on Earth Day. After touring the facility, Bonamici listened to our concerns about two important federal issues that are impacting solar policy: proposed new solar tariffs and the expiration of the federal solar tax credit in 2023.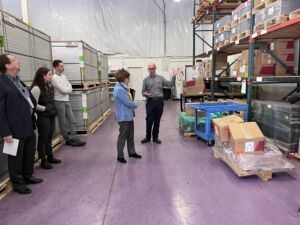 A&R Solar's Oregon sales manager, Mark Farrell, explained how local solar installers in Oregon and Washington like A&R source materials for solar projects.
Farrell highlighted the Commerce Department's investigation that could lead to retroactive tariffs and price increases of 50% to 250% on PV modules coming from Vietnam, Cambodia, Malaysia, and Thailand. While ~80% of the industry is supplied by these sources, Farrell stressed that only a tiny fraction comes from North America. Because manufacturers would be the ones to bear the brunt of these tariffs, they have begun freezing module deliveries to the U.S. As a result, several of A&R solar's commercial projects are currently being impacted by this freeze.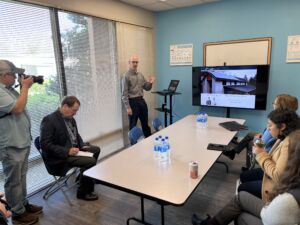 Bonamici was receptive to A&R's concerns and shared that Congress is trying to get a bipartisan act passed that would incentivize the manufacturing of components in the United States for solar and other industry products.
In the meantime, support from consumers is highly welcomed. If you'd like to ensure these tariffs don't go into effect, please sign the following petition as provided by the Solar Energy International Association (SEIA) → Tell Congress: No New Solar Tariffs on Solar Imports