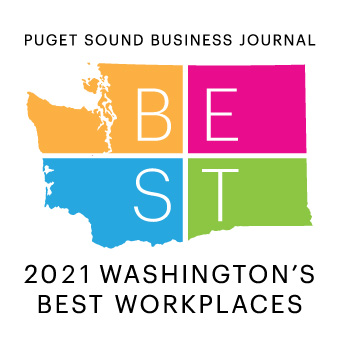 A&R Solar employees have once again named A&R Solar one of Washington's best workplaces in the Puget Sound Business Journal's 2021 Best Workplaces program.
PSBJ surveys employees on different areas such as benefits and culture. Seventy percent of our eligible staff needed to respond for us to qualify.
We're humbled that our employees honored us with this recognition, especially given the challenges of installing solar and during the pandemic when our office staff has been working remotely and our install crews have been following strict state and OSHA safety guidelines. Many of us haven't seen each other since the pandemic began.
We're proud to pay our employees a living wage and offer a slate of benefits. Beyond the standard benefits (medical, dental, 401k with match, paid time off), we've been able to add some unique perks, such as:
Company ownership after 3 years
At-cost solar energy system for your home
Tool stipend
Company-sponsored group outings (kayaking, sporting events, dinners)
Continuing education units reimbursement
Education enrichment stipend (foreign language, photography, snowshoeing)
And yes, we're hiring!