The future of the automotive industry is electric, and auto dealers are quickly catching up by realizing the benefits of installing a solar PV system. With electric vehicle sales skyrocketing to unprecedented levels, dealerships are now faced with the electrifying challenge of keeping up with the growing demand.
As the world races towards a greener, more sustainable future, dealerships have a pivotal role to play in driving the transition to electric vehicles. It's a critical turning point for the industry, so dealerships embracing this change will be the ones who come out on top.
"Electric vehicles are the future, and the EV movement is happen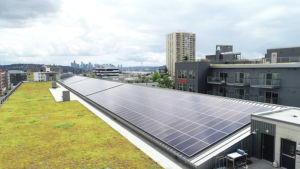 ing much faster than anyone anticipated," says Miles Richardson, General Manager and Vice President of Audi Seattle/University Volkswagen.
However, as more EVs roll onto showroom floors, most dealerships face certain challenges in reducing operating expenses for a business that already consumes more energy than most.
The sheer scale of these facilities warrants energy reduction measures, as massive parking lots, security systems, and electronic devices consume on average 18% more energy than a typical office building.
A solar energy system can support a dealership's goal of reducing its carbon footprint while significantly reducing monthly operating costs.
In the case of Audi Seattle/University Volkswagen, going solar removed an estimated 150 metric tons of carbon dioxide from the air every year while reduced energy demand from the utility is projected to save the business nearly $2 million over the first 25 years.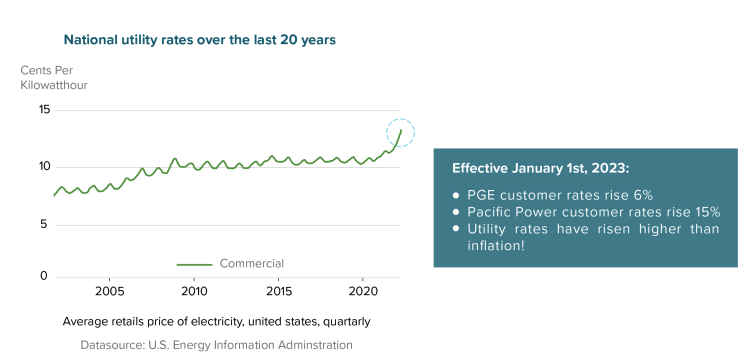 Additionally, it makes more sense for a dealership to produce its own power via solar than to remain dependent on the utility, as rates continue to rise. Businesses could see their monthly bills increase on average by 6% – 15% annually.
As the image below shows, a significant portion of a system's total cost can be subsidized by generous solar incentives, while the utility savings alone would represent around $10,000 in the first year alone!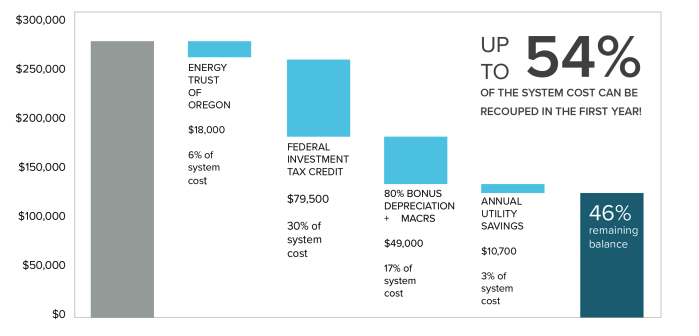 So let's run through some of the reasons why many dealerships are choosing to go solar in 2023.
Commercial solar incentives
In many states, there are government incentives available for businesses that install solar energy systems. These incentives can include tax credits, rebates, and grants that can significantly offset the cost of installation. By taking advantage of these incentives, car dealerships can reduce their upfront costs and enjoy a quicker return on investment.
For instance, the Modified Accelerated Cost Recovery System (MACRS) can provide car dealerships a way to accelerate a rate of return on their investment by allowing the business to deduct the depreciable value of solar energy equipment from their taxes for five years.
Additionally, depending on state regulations, auto dealerships could take advantage of the Commercial Property Assessed Clean Energy (C-PACE) program which allows dealerships who own their property to finance the cost of energy improvement projects, such as a solar installation. Borrowed capital is then repaid over time as an add-on to the business' property tax bill.
Installing a solar energy system on an auto dealership can provide numerous benefits that go beyond just cost savings. It can help to reduce the dealership's carbon footprint, improve its brand image, and provide energy infrastructure to support the growing demand for electric vehicles.
Energy Cost Savings with solar
Cost savings is one of the main benefits of installing a solar energy system on an auto dealership. Solar energy systems generate electricity from the sun and can significantly reduce the dealership's electricity bills. A solar energy system can produce enough energy to power the dealership's lighting, heating, and cooling systems, and even charge electric vehicles.
Environmental benefits of a solar PV system
Car dealerships are known for their large carbon footprint, mainly due to the energy consumption of their lighting and HVAC systems. By installing a solar energy system, car dealerships can reduce their reliance on fossil fuels and decrease their carbon footprint. Solar energy is a clean and renewable source of energy, and using it to power a car dealership can significantly reduce its impact on the environment.
Solar Improves Brand Image
Consumers are becoming increasingly aware of the environmental impact of businesses and are more likely to choose companies that prioritize sustainability. By installing a solar energy system on a car dealership, the dealership can demonstrate its commitment to sustainability and appeal to eco-conscious customers. This can help to improve the dealership's brand image and increase customer loyalty.
Solar Increases Property Value
Installing a solar energy system can also increase the property value of a car dealership. A solar energy system is a valuable asset that can provide cost savings and environmental benefits, making the dealership more attractive to potential buyers.
With over 4,000 commercial and residential solar installations completed, including many auto dealerships, A&R Solar has a proven track record of delivering value while establishing a working relationship that extends well beyond the solar installation itself.
Speak to a representative today about how a solar energy system and battery storage can change the way you do business.