March 2022 marked the 15th year of operation for A&R Solar, and we couldn't be more excited about what we've accomplished. With over 4,000 systems installed across the Pacific Northwest and around 100 employees in two states, we've come a long way since our two founders, Andy and Reeves, started the business back in 2007. 
Today, we're proud to say that we're B Corp certified and we possess the distinct honor of being a Social Purpose Corporation: a designation that highlights our prioritizing of environmental and social criteria above the pursuit of profit. Although these accolades represent important milestones for us, we've achieved so much more in our 15 years of operation as a solar installer. Here are a few more accomplishments that have kept us empowered moving forward.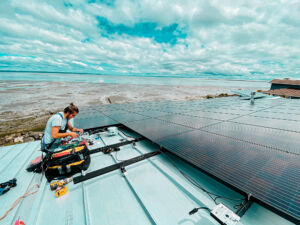 In 2012, A&R Solar participated in Solarize Northwest: an initiative to bring clean and affordable solar energy to communities in Washington and Oregon. This grassroots effort resulted in A&R installing solar panels on 52 Seattle homes, which was a major accomplishment for our 5th year of operation.
By 2013, we were awarded SunPower's prestigious Intelegant Award for Excellence (only one of these is given to a U.S. residential solar installer each year). We also installed our last solar water heater and achieved our mega-milestone of hitting one megawatt of solar installed. By September 2013, we appeared on Puget Sound Business Journal's Fastest-Growing Private Companies for the first (but not last) time! 
To say thanks to the Bellevue community for selecting us as the solar installer for the Solarize program, A&R donated a solar energy system to the KidsQuest Children's Museum in 2015. Two words: Spandex. Capes. With a steep metal roof, and our installers donning bright yellow bodysuits, the installation was quite the sight to behold.
With our success in Washington adding wind to our sails, it was time to expand our business to Oregon. By January 2016, A&R became licensed to work in Oregon, so we opened our first office in Milwaukee. After hiring and training our first Oregon employees, it wasn't long before we finished up our first Oregon installation on a new home that was designed to be net zero. Since then, we've installed hundreds of systems in Oregon and Southwest Washington, including homes, Target stores, schools, municipal buildings, and small businesses.
In 2018, we became one of the first Tesla Powerwall Certified Installers in the Northwest. Our Research & Development team is continually evaluating new products. With storms, fires, and earthquakes threatening the grid, Tesla Powerwall 2, Tesla Powerwall 3, and other battery options offer solar homeowners a way to store excess power and use it during outages. Fast forward to June of 2020 when we reached an important milestone wherein we successfully sold and installed 200 solar batteries.
It's amazing to look back on what A&R Solar has accomplished in 15 years. We've been recognized for our craftsmanship, commitment to customers and employees, as well as our efforts at forging relationships with lawmakers to create policy that helps broaden the reach of renewable energy. While it all started with two guys who wanted to create a company focused on people and the planet, we can honestly say that we're ready for what's next.